---
Sallie Bingham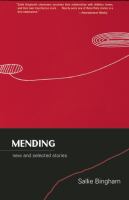 [1]
In Mending, Sallie Bingham follows the often brutal course of yearning and its disappointments with an emotional acuity both unflinching and vigilant. From the first assertions and compromises of sexuality - those accommodations that tug and chafe - to the constrictions of a maturity where need has been winnowed down, but so has our ability to accommodate. Bingham's stories radiate with an honesty that is as insistent as it is compassionate.
These stories, spanning a career of fifty years and ranging from the fecund Kentucky of her youth to the starker landscapes of New Mexico, have been called "sharp, elegant narratives" by Entertainment Weekly and "luminous" by Publisher Weekly. Taken together, they offer a vision of our inexhaustible hope that there might be a fitting home for the heart.
Sallie Bingham published her first novel in 1961. Since then she has published four collections of short stories, four novels, and a memoir. She was Book Editor for The Courier-Journal in Louisville and has been a director of the National Book Critics Circle. She is the founder of The Kentucky Foundation for Women, and the Sallie Bingham Center for Women's History and Culture at Duke University.
Hosted By:
Linda Roach and Selma Owens
Bittersweet Farm
3223 Paris Pike
Kim Edwards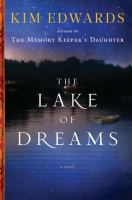 [2]
At a crossroads in her life, Lucy Jarrett returns home to upstate New York from Japan, only to find herself haunted by her father's unresolved death a decade ago. Old longings stirred up by Keegan Fall, a local glass artist who was once her passionate first love, lead her into the unexpected. Late one night, as she paces the hallways of her family's rambling lakeside house, she discovers, locked in a window seat, a collection of objects that first appear to be idle curiosities, but soon reveal a hidden family history. As Lucy explores these traces of her lineage - from an heirloom blanket and dusty
political tracts to a web of allusions depicted in stained-glass windows, both in her hometown and beyond - a new family narrative emerges. It will link her to a unique slice of the suffragette movement, and yield dramatic insights that will free her to live her life to its fullest and deepest.
Kim Edwards is the author of the #1 New York Times best-seller The Memory Keeper's Daughter, which has been published in more than thirtyeight countries, and a collection of short stories, The Secrets of a Fire King. Her honors include the Whiting Award, the British Book Award, and USA Today's Book of the Year, as well as the Nelson Algren Award, a National Magazine Award, and a grant from the NEA. She is an associate professor at The University of Kentucky.
Hosted By:
Denise & Paul Nierzwicki, and Buzz Carmichael
515 West Main Street, Apt. 509
Cynthia Ellingsen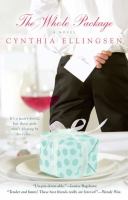 [3]
For lifelong friends Jackie, Cheryl, and Doris, life hasn't turned out according to plan. After living the life of a glamorous widow in Paris, Jackie is all out of money, and the only place left to go is home. Cheryl is at the top of her game both in and out of the boardroom, until her misplaced plans for a corporate takeover earn her a set of walking papers. And while Doris has Xanax to cure her depression, no pill can take away the pain of broken dreams. But after a drunken night sampling the delights at a adult entertainment
club for women, the ladies stumble upon an ingenious idea. With Jackie's connections, Cheryl's business sense, and Doris's ambition, the ladies open up The Whole Package - the world's first restaurant staffed exclusively by very attractive men. Mixing business with pleasure can be risky, but for these three best friends, getting a little bit outrageous just might be what it takes to make their mark in the worrld...
Cynthia Ellingsen is a professional novelist delighted to live and write in the Literary Capital of the Midwest. Her debut novel, "The Whole Package", was published by Penguin-Berkley in August, 2011. Currently, "The Whole Package" is being shopped by Creative Artists Agency for a film deal. Her next novel, "Marriage Matters", has also been purchased by Berkley and will be released in April, 2013.
Hosted By:
Amy Carrington, Elizabeth Deener, Margaret Ridley, and Stephanie Spires
Gallery B
145 West Main Street
Maggie Green
[4]
With a focus on the cook's activities in the kitchen, The Kentucky Fresh Cookbook guides both aspiring and experienced cooks in the preparation of delicious meals using the delightful variety of foods found in Kentucky. Green welcomes readers with her modern and accessible approach, incorporating seasonally available Kentucky produce in her recipes but also substituting frozen or canned food when necessary. She complements her year of recipes with tidbits about her own experiences with food, including regional food traditions she
learned growing up in Lexington, attending the University of Kentucky, and raising a family in Northern Kentucky. The Kentucky Fresh Cookbook acknowledges the importance of Kentucky's culinary and agricultural traditions while showing how southern culture shapes food choices and cooking methods.
Maggie Green, a chef, Registered Dietitian, and owner of The Green Apron Company, tests and develops recipes, edits cookbooks, writes about food, and cooks her way to good health, all while promoting the value of simple, delicious home-cooked meals. She lives in Fort Wright, Kentucky.
Hosted By:
Rob & Molly Lewis,
Joy Robyn, and Jim Fenwick
175 Old Park Ave
David King
[5]
Death in the City of Light is the gripping true story of a serial killer who unleashed his own reign of terror in Nazi-occupied Paris. As decapitated heads and dismembered body parts surfaced in the Seine, Commissaire Georges-Victor Massu, head of the Brigade Criminelle, was tasked with tracking down the murderer in a twilight world of Gestapo, gangsters, Resistance fighters, pimps, prostitutes, spies, and other shadowy figures of the Parisian underworld. The main suspect was Dr. Marcel Petiot, a handsome, charming physician
with remarkable charisma. He was "The People's Doctor", known for his many acts of kindness and generosity, not least in providing free medical care for the poor. Petiot, however, would eventually be charged with 27 murders, although authorities suspected the total was considerably higher, perhaps even as many as 150. Trying to solve the many mysteries of the case, Massu would unravel a plot of unspeakable deviousness.
David King is the author of the acclaimed Vienna, 1814 and Finding Atlantis. A Fullbright Scholar with a master's degree from Cambridge University, he taught European history at the University of Kentucky for several years. He lives in Lexington, Kentucky, with his wife and children.
Hosted By:
Debbie and Larry Jones
Lexington Club, 170 Esplanade
Hooman Majd
[6]
Opening with a dramatic recounting of the 2009 elections, The Ayatollahs' Democracy launches into a chilling description of the sometimes-Orwellian bureaucracy that runs the Iranian government. Drawing on privileged access to the power elite, Hooman Majd, himself the grandson of an esteemed ayatollah, explores the paradoxes of the Iranian democratic psyche, showing why the country has
proven so consistently vexing on issues ranging from its nuclear ambitions to its thirty-year cold war with the United States and Israel. From mosques where mullahs give speeches while leaning on AK-47s to the halls of government where officials speak candidly about censorship, violence, and international politics, Majd explains the complexities of the conflict between Iran and a suspicious West.
Born in Tehran but educated in England and America, Hooman Majd is the author of The Ayatollah Begs to Differ. He has written for GQ, Newsweek, the New York Times, The New Yorker, the New Republic, and many other publications. He lives in New York City and travels regularly to Iran.
Hosted By:
Meg Jewett & Alan Leavitt
Walnut Hall, Ltd.
3719 Newtown Pike
Bobbie Ann Mason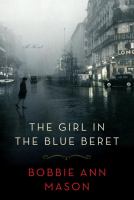 [7]
Inspired by the wartime experiences of her late father-in-law, award-winning author Bobbie Ann Mason has written an unforgettable novel about an American World War II pilot shot down in Occupied Europe. Marshall was saved only by the kindness of ordinary citizens who, as part of the Resistance, moved downed Allied airmen through clandestine, often outrageous routes to get them back to their bases in England. Now he wants to find them again - to thank them
and renew their ties. Most of all, Marshall wants to find the courageous woman who guided him through Paris. She was a mere teenager at the time, one link in the underground line to freedom. Marshall's search becomes a wrenching odyssey of discovery that threatens to break his heart - and also sets him on a new course for the rest of his life.
Bobbie Ann Mason is the author of In Country, Shiloh and Other Stories, An Atomic Romance, Nancy Culpepper, and a memoir, Clear Springs. She is the winner of the PEN/Hemingway Award, two Southern Book Awards, and numerous other prizes, including the O. Henry and the Pushcart. She was a finalist for the National Book Critics Circle Award, the American Book Award, the PEN/Faulkner Award, and the Pulitzer Prize. She is writer-inresidence at the University of Kentucky.
Hosted By:
Sue Ann Truitt
L. V. Harkness & Co.
531 West Short Street
James C. Nicholson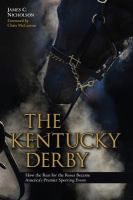 The Kentucky Derby
By James C. Nicholson
Author James C. Nicholson describes the enduring appeal of the Derby as an unlikely combination of the cherished traditions of the past and the modern, uninhibited atmosphere of a festival. Although some credit the iconic Churchill Downs or the track's most influential president, Matt Winn, for elevating the Kentucky Derby to national prominence, Nicholson proposes that the race's popularity stems from its perennial reflection of American cultural tastes
and values. The most thoroughly researched history of the Derby available, Nicholson's account illuminates the history, culture, and mythology that give the Derby its unique identity. The Kentucky Derby explores the rich history of the Run for the Roses through the stories of the horses, owners, trainers, jockeys, administrators, politicians, and gamblers that have shaped and defined the Derby. Imbued with the unique essence and pageantry of Kentucky, the Kentucky Derby remains a significant link to America's fabled past.
James C. Nicholson grew up on a Thoroughbred farm and recently received a PhD in history from the University of Kentucky.
This dinner includes an optional special private tour of Keeneland prior to the Library reception. The tour will be conducted by Mr. Nick Nicholson, President and CEO of Keeneland.
Hosted By:
Adrian & Whitney Mendiondo, Wells Bullard, Sara Wylie and Griff VanMeter
West Sixth Brewing Company
501 West Sixth Street