DA Collection

Around the Town in Lexington, Kentucky
"Around the Town in Lexington, Kentucky" is a short travel pamphlet highlighting local attractions and schedules of events in Lexington, Kentucky.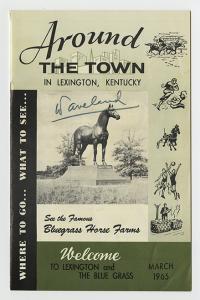 The Around the Town in Lexington, Kentucky magazine pamphlet contains advertisements for local attractions, apartment homes, restaurants, and hotels. It includes a small section with details about travelling in Lexington, such as the time zone, post office location, and the hours of alcohol sales. There is a schedule of events for Lexington, and a Television Guide highlighting popular programs. The last half of the guide contains an in depth article about the local historic home museum, Waveland.

Around the Town in Lexington, Kentucky was owned and published by Wallace "Wah Wah" Jones, professional basketball player and politician until 1967. He was appointed as Malt Beverage Administrator in 1967 (Lexington Herald, 1967-10-12) by Governor Louis B. Nunn, and in 1969 resigned due to his involvement with the publication (Lexington Herald, 1969-08-12). Around the Town in Lexington, Kentucky contains numerous alcohol advertisements, and it was seen as a conflict of interest, though Mr. Jones claimed to have sold the publication prior to his appointment to the Alcohol Beverage Control board.