DA Collection

Ashland McDowell Photograph Collection
The photo collection contains images from an unknown event circa 1894.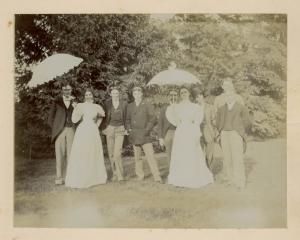 Major Henry Clay McDowell purchased the Ashland Estate from Kentucky University in 1882 with his wife, Anne Smith Clay McDowell, who was a granddaughter of Henry Clay. The McDowells took great care to revive the grounds to their former glory and made several lasting improvements, including the construction of a glass conservatory adjoining the terrace, which is visible in several of the collection's images. During the period that Ashland was owned by Kentucky University, a large Mechanical Hall was erected on the grounds, which the McDowells converted to a stable and used to reestablish Ashland as a thoroughbred stock farm. The tenure of the McDowells at Ashland was marked by numerous celebrations and social events on the grounds.
This photo collection shows one of many gatherings of friends and family, taken circa 1894, which included a parade of the estate's horses. Thoroughbreds Impetuous, King Reine, Oratorio, Argentina, and Bracegirdle are all being proudly shown at this event. Photos also show members of the McDowell family in attendance, including Major McDowell and his wife, and their daughters Nanette, Julia, and Madeline. The author John Fox Jr. was a frequent guest of the McDowells at Ashland and can be seen in one image playing a banjo on the lawn.
Information on the history of Ashland from Ashland: the Henry Clay Estate by Eric Brooks, 2007.