DA Collection
Brown-Hocker Community Collection
The Brown-Hocker Collection contains African American photos and realia from Kentucky history.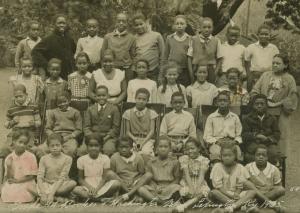 The Brown-Hocker Collection is a community collection of photos and realia from African American events and people in Lexington and Kentucky history.
The objects in the collection are primarily for events in African American schools and churches. However, there are several items pertaining to civil rights activism in Kentucky. The 1964 March on Frankfort, led by Dr. Martin Luther King, Jr. and Jackie Robinson, attracted over 10,000 marchers. The two volumes of "The Kentucky Club Woman" were published by the Kentucky Association of Colored Woman's Clubs, which represented over 100 Kentucky clubs. There are also several objects honoring the life and legacy of Whitney M. Young, Jr.
The Constitution School and Booker T. Washington Elementary School were both segregated schools for African American children in Lexington. Constitution closed in 1972.
The contents of the collection are:
•
Russell Public School Kindergarten Certificate for Jean Elizabeth Brooks, June 4, 1931
•
Constitution School Report Card for Thomas Yates, 1934-1935
•
Photograph of Booker T. Washington School Grade 4A class, 1935
•
Photograph of Constitution School Grade 5B class, 1935
•
Starling Hatchett song recital program, September 28, 1945
•
Kentucky Association of Colored Woman's Clubs "The Kentucky Club Woman" magazine, volume 19, issue 2, June 1946
•
Kentucky Association of Colored Woman's Clubs "The Kentucky Club Woman" magazine, volume 19, issue 3, October 1946
•
"The Moon Queen" cantata and "Tom Sawyer" operetta program at Booker T. Washington School, May 21, 1951
•
"Dolls on Dress Parade" play program at Booker T. Washington School, May 18, 1953
•
Shiloh Baptist Church "Young Adult's Day" program, April 15, 1956
•
New Liberty Baptist Sunday School Convention 75th Diamond Jubilee annual session program, July 30 - August 1, 1958
•
Minutes of the New Liberty Baptist Sunday School Convention 75th Diamond Jubilee annual session, July 30 – August 1, 1958
•
Pilgrim Baptist Church "Men's Day" bulletin, May 26, 1963
•
Martin Luther King's "March on Frankfort" program, March 5, 1964
•
Eulogy for Whitney M. Young, Jr. program, March 17, 1971
•
Dedication program for the Whitney M. Young, Jr., Residential Manpower Center, June 16, 1972
•
Whitney M. Young, Jr. Memorial Service program, March 10, 1974
•
Mt. Pleasant District Association Centennial Session, August 6-9, 1974
•
St. John Baptist Church Homecoming pamphlet, October 25, 1992