DA Collection

Council of Defense Records
The Council of Defense records contain information about the soldiers, sailors, marines, and nurses who served during World War I.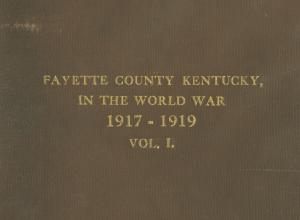 The Council of Defense books contain records for Fayette County's Army soldiers, Navy sailors, Marines, and Army nurses in World War I, and include information regarding the person's residence, birth place and date, specific units and engagements, commendations, injuries and disabilities, desertions, and discharge or casualty information.
These records are especially distinctive because they include service records from soldiers, sailors, marines, and the Army nurse corps; nurses served throughout various wars in the United States, but World War I became the first time that nurses were given officer ranks and insignia.
At the session of the General Assembly of Kentucky, which convened January 8, 1918, an act was passed and approved on March 15, 1918, creating the Kentucky Council of Defense. This act was approved as the state's response to the Council of National Defense, which was formed in August, 1916, to support the nation's war effort in World War I. The Kentucky act gave the state organization the authority and responsibility to coordinate the Kentucky war efforts within the state with the national war effort, for the duration of the war.
Within the act, these responsibilities included appointing representatives through the state 'to report treasonable acts or utterances;' coordinate state-wide war efforts; coordinate all voluntary patriotic organizations and committees and supervise donations; acquire its own private donations; encourage support of the war effort through activities and speakers, publishing pamphlets and bulletins; create its own committees for support or advisory boards; and report on its activities to the state governor each year. The lists of committee members are included in the beginning of Volume I.
In addition to the responsibility of supporting the state war effort, the Council was given the authority to investigate questions regarding its responsibilities, through subpoenas of witnesses and petitions when necessary.
The first state session met in Louisville in March of 1918, and Fayette County's meeting followed on June 25th, 1918, in the director's room of the Fayette National Bank in Lexington, on the corner of West Main and North Upper, in what is currently the 21c Museum Hotel.
After the war, each county's service records were copied, bound, and presented to the county, though many of the Council of Defense books have since been lost. Of 120 counties, the whereabouts of 36 are known. In addition, a Kentucky set is housed in the Kentucky Department of Military Affairs in Frankfort, and the Filson Historical Society houses the entire 144 volume set of the civilian records.
- Information regarding the Council of Defense activities and responsibilities from Report of the Activities of the Kentucky Council of Defense to January 1, 1920, p. 8-23.
- Information regarding the current whereabouts of the volumes from Kentucky and the Great War: World War I on the Home Front by David J. Bettez, p. 400-402 (2016)