DA Collection

Diaries of Etta Evans Gilmore (1885 - 1959)
The Gilmore Diary Collection contains 11 Bath County diaries from 1944-1955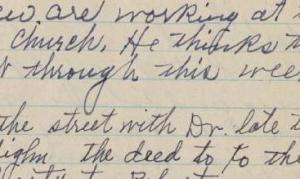 Etta Evans Gilmore was born in Fleming County, Kentucky, on February 4, 1885, to Robert Evans and Matilda Fawns. She married Henry Steele Gilmore, a Bath County physician, around 1906. Their son Robert was born in 1906 and daughter Lorena in 1910. She died on December 2, 1959, in Owingsville, Bath County, Kentucky, and was buried in the Hillsboro Cemetery in Fleming County.
The diaries of Etta Evans Gilmore are a collection of 11 handwritten journals that contain daily notes or comments of her life in Bath County, Kentucky, in the years 1944 (2 volumes), 1945-1949, 1951-1952, and 1954-1955. She lived in Bath County for the last 51 years of her life, and was active in her churches and in her role as a doctor's wife. The diaries that she wrote touched on the many people and activities in her life. After her death in 1959 and her husband's death in 1973, the family donated the diaries to the Bath County Memorial Library's local history collection.
To return to the Bath County Memorial Library Collection page,
click here
.
Note: when digitizing the diaries, pages without writing were not scanned. Ms. Gilmore was a prolific writer, but any date jumps in the images are due to a lack of entries. The contents were also not processed for word recognition, since they are handwritten.