DA Collection

Dunbar High School (1923-1967)
The Dunbar Echo was the magazine created by the students of Dunbar High School. Yearbook issues include students, alumni, faculty, sports, classes, photos, and clubs.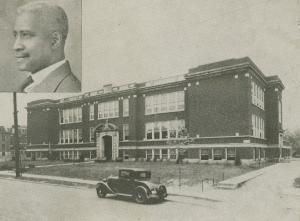 Dunbar High School opened in 1923 at 545 North Upper Street as the only all-black high school in Lexington's city school system. The school was named after African-American poet Paul Laurence Dunbar (1872-1906­), whose parents had been enslaved in Kentucky. Dunbar was a source of immense pride for many in Lexington; it was ambitious in academics, formidable in athletics, a meeting place for community organizations, and the first of only eight black high schools to ever be accredited by the Southern Association of Colleges and Schools.
In 1967, after federal pressure to racially integrate schools, the Fayette County board of education decided to close Dunbar High School. This elicted a substantial outcry from many black Lexingtonians, who saw Dunbar as a community cornerstone, and whose children would be bused longer distances to school. In 1968, the school board promised that the next high school opened in Fayette County would also be Dunbar, which then opened in 1990. After the original closed in 1967, the old Dunbar building remained in use for several years as a junior high school. Most of the building was razed in 1974; what remains of it has been converted into the Dunbar Community Center.
The Dunbar Echo became the student publication, coming out a few times each year. The Lexington Public Library holdings contain the yearbook editions of the publication, which contains information about students, alumni, faculty and teachers, sports, essays, student activities, attendance, budget, and Echo sponsors. There are also black and white photos of some of the students and faculty.
Information from:
Carpenter, Siona. "New Era Dawns at Dunbar." Lexington Herald-Leader (Lexington, KY), Dec. 18, 1989.
Carpenter, Siona. "New Dunbar: Honoring Poet or Avoiding Past?" Lexington Herald-Leader (Lexington, KY), Jan. 24, 1990.
"Dunbar (Paul Lawrence) High School." Lexington History Museum. Accessed February 26, 2018. http://lexhistory.org/wikilex/dunbar-paul-lawrence-high-school.
Marx, Jeffrey. "Alumni of Dunbar Want Name Revived in New High School." Lexington Herald-Leader (Lexington, KY), Sept. 2, 1987.
"Paul Laurence Dunbar High School (Lexington, KY)." Notable Kentucky African Americans Database. Accessed February 26, 2018. http://nkaa.uky.edu/nkaa/items/show/1358.​