DA Collection

Elmer L. Foote Lantern Slide Collection
The Elmer L. Foote Collection is a group of 190 lantern slides. They were created by Elmer L. Foote, a Cincinnati photographer and library staff member whose pictures appeared in the Cincinnati Commercial Tribune.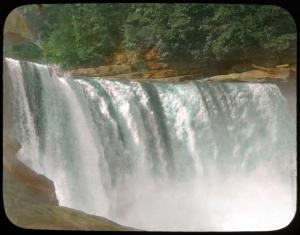 Elmer L. Foote served as official photographer of the Cincinnati Public Library for many years, and produced photographs that appeared in the Cincinnati Commercial Tribune during the early years of the twentieth century. Lantern slides are glass positive transparencies, viewed through a back lit projector. The Lexington Public Library does not have record of when the slides were donated, or the donor's name. Records do indicate that the library purchased a projectoscope for viewing glass slides in 1912, and a separate lantern slide collection was donated to the library in 1919. The slides contain examples of posed portraiture, scenery from around Kentucky, documentation of the new High Bridge, as well as several historic buildings and homes, some of which are unidentified.
He was born in Glastonbury, Connecticut on February 27, 1863, the son of Edwin Foote and Ellen Hodges Foote, both natives of Connecticut. He came to Cincinnati about 1884 and married Estelle Allee of Cincinnati in 1888. Foote died at age 56 in Norwood, Ohio on September 21, 1919 and is buried in Spring Grove Cemetery, Cincinnati, Ohio. Foote's obituary in the Commercial Tribune of September 22, 1919 describes him as nationally known, and mentions his "photographic genius." The article further describes Foote's pictures taken among the Cumberland Mountains and outdoor scenic snow views, appearing at intervals in the Commercial Tribune, as photographic classics.