DA Collection

Fayette County Churches
Church information includes directories, records, and informational brochures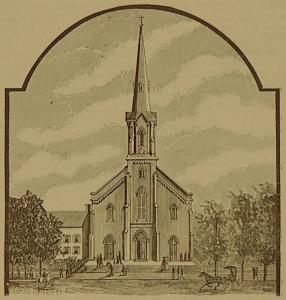 Fayette County churches contain some of the earliest records and information preserved about central Kentucky history. The digital archive contents include church ledgers, minutes, directories, and informational brochures.
Current objects in the collection include:
A Brief History of David's Fork Baptist Church, 1786-1876
First Methodist Church Historical Sketch, 1789-1939
Broadway Christian Church 75th Year Jubilee, 1870-1945
Christ Church 1796-1946: A Brief History of Its 150 Years
A Sketch of Mount Horeb Presbyterian Church, 1827-1952
A Ministry in Stained Glass, Second Presbyterian Church, 1953
Second Presbyterian Church Capital Campaign, 1956
Central Christian Church (Disciples of Christ) Directory, 1956
Second Presbyterian Church 1963 Yearbook and Directory
Immauel Baptist Church Sunday School Superintendents and Teachers, 1964-65
Central Christian Church (Disciples of Christ) Sesquicentennial Directory, 1816-1966
A Brief Description of the Episcopal Burying Ground, 1967
Hillcrest Baptist Church Directory, 1973
Pleasant Green Baptist Church Anniversary, 1975
Ashland Avenue Baptist Church Directory, 1975
Immanuel Baptist Church Directory, 1975
Lafayette Christian Church Membership Rolls, 1976
The St. Paul Community Collection contains baptisms, marriages, deaths, and church events from 1868.