DA Collection
Imperial Court of Kentucky
The collection contains materials from the Imperial Court of Kentucky.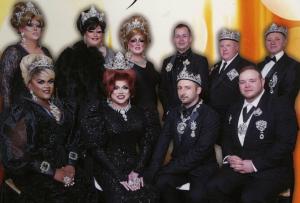 Founded in 1982 by Gigi Galore (Greg Butler) and Blanche Pink (Marlon Austin), the Imperial Court of Kentucky, Inc., is a nonprofit charity that supports the LGBTQ+ community of Kentucky "one dollar at a time" through drag shows, social programs, and fundraisers. The Court uses the modus of English peerage to establish male and female lines of descent, with the female line comprising of drag queens (i.e. performers in drag), with each year an empress and emperor being elected. These "royals" represent the court throughout the upcoming year. The Court is a charter member of the International Court System with kingdoms in the US, Canada, and Mexico. Member courts are autonomous organizations bound together in a shared structure, policies, and goals, fundraising for HIV/AIDS services, human rights advocacy, and other LBGTQ+ stakeholders.
This collection of coronation programs and calendar feature such notable drag queens as Janel Claiborne, Aurora Cummings, Nicole Diamond, Cammie Dietrich, Shady Dior Couture, Kali Dupree, Niagara Falls, Helena Handbasket, Lawren LaMoore, Chanda Lier, Diva Lilo, Eve St. Mychal, Natalie Gaye, Ginger Grant, Uma Jewels, Lady Marmalade, Cheyenne Moonshadow, Georgia Peach, Chelsea Pearl, Petty Giuliana Poussey, Christina Pusé, Raina Starr, Eden Towers, Trinity, J.D. Vaughn, Julie Vaughn, Stephanie Velour, Jeanette Wylde, and Shotz with a Z; and community members David Adams, Marlon Austin, Clayton Burchell, Scottie Clark, Wayne Clayton, Russell Drake, Kevin Fillips, Kurt Gohde, Dylan Gullette-Fox, Tim Logsdon, Daryl Lyons, Daniel Perkins, Nick Porter, Chris Rhorer, John Ridener, Donnie Royse, Isaiah Screetch, Brad Shepherd, Larry Stanley, Michael Thompson, Patrick Thompson and Antwan Walker.