DA Collection

Junior League of Lexington Community Collection
The Junior League of Lexington Community Collection contains photos, posters, and objects from the organization's history.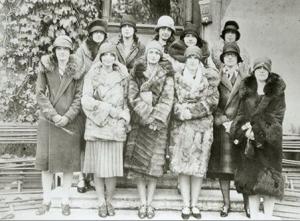 The Junior League of Lexington (JLL) is a local nonprofit organization of women committed to improving community through volunteerism. The first Junior League was established in 1901 in New York, and Lexington followed in 1924. Lexington's chapter began with ten women, whose numbers grew to build the foundation of community service for which today's League is known. Its first years established the Junior League as a founding contributor for Baby Health Services in 1938 and the Lexington Children's Theatre in 1939, nonprofits which both still exist today. In the 1960's, the JLL also founded the Opportunity Workshop of Lexington (OWL) and the Living Arts and Science Center, which are also both still in operation serving the Lexington community. The also contributed support to many local organizations, with everything from community revitalization to crisis intervention.
The event most closely associated with the Junior League is the annual Junior League Horse Show each July, which began in 1937 and was the organization's only fundraiser for 70 years. It is the first leg of the Saddlebred Triple Crown, and attracts international attention. The event is still volunteer run and generates enormous local impact. In 2007, the JLL began its annual Holly Day Market as well, which runs in November as another fundraiser.
JLL currently resides in the historic Bodley-Bullock House downtown, and continues its tradition of community support and engagement.