DA Collection

Kentucky Almanacs
The Kentucky almanac collection contains old regional almanacs.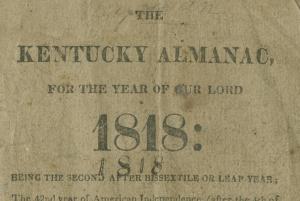 The Kentucky Almanac was a regional almanac that began printing in 1788, at the office of John Bradford's Kentucky Gazette in Lexington. The Gazette itself began publication in 1787.
The almanacs contain information about local lunar and solar patterns, predicted weather patterns for the year, and also lists court days for all of Kentucky's counties for that time. It continued being published through the 1840s.