DA Collection

Kentucky Chautauqua
The brochure for the Kentucky Chautauqua includes information and pictures of presenters and events.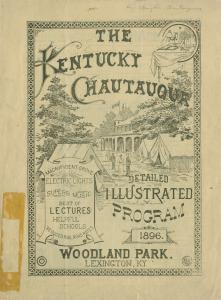 The Kentucky Chautauqua Assembly presented an annual event in Lexington's Woodland Park with days of programming. Presentations varied from live music and entertainment to lectures and speeches from national figures. The Kentucky Chautauqua began in 1887, to great popularity, and continued through 1903. After Woodland Park was taken over by the city and reconstructed in 1904, new Chautauqua series did take place by the Lexington Chautauqua and later the Redpath circuit Chautauqua.
The Lexington Public Library collection has two programs, detailing the events for the 1892 and 1896 Kentucky Chautauquas.