DA Collection

Lexington and Fayette County Government Documents
The collection contains city and county documents for Fayette County.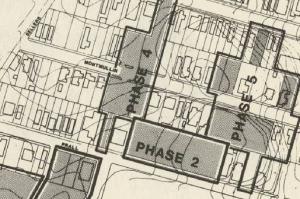 Until 1974, Lexington and Fayette County had two separate governing bodies. Lexington itself was founded in 1775 and chartered in 1782 by an act of the Virginia General Assembly, since Kentucky itself did not achieve statehood until 1792. Fayette County was formed in 1780, and spanned what is currently about a third of the state, before achieving its current boundary lines in 1799.
The Lexington Fayette Urban County Government became a consolidated government in 1974. The digitized items in this collection are primarily Lexington city documents or merged city-county documents. The earliest digitized item is Lexington's 1858 city charter and ordinances. The full list of available ordinances and reports can be accessed
by clicking here
.
The current local government documents in this collection (in publication order):
1858 Lexington Charter and Ordinances
1877 Lexington City Ordinances
1894 City Budget and Reports
1895 City Budget and Reports
1896 City Budget and Reports
1900-02 City Budget and Reports
1908 City Budget and Reports
1923 Annual Report
1924 Low Income Housing Study
1928 Annual Report
1929 Lexington Police and Fire Department Review
1931 Lexington Comprehensive Plan
1932 City Audit
1932 City Proposed Budget
1933 City Proposed Budget
1934 City Proposed Budget
1935 City Proposed Budget
1936-1951 City Budgets with 1935-1950 Audits
1938 Health Department Report
1939 Real Property Survey
1940 Health Department Report
1949 Housing Master Plan
1965 Nuclear Fallout Shelter Plan
1966 Downtown Lexington Development Plan
1966 Lexington Downtown Design Plan
1966 Analysis of Soils in Lexington and Fayette County
1968 Abstracts/Summaries of Major Planning Studies
1969 Wonderful Lexington Kentucky
1970 Low-Income Housing Study
1971 Irishtown Davistown South Hill Study
1972 City-County Merger Charter
1974 Downtown Preservation Study
1975 Pralltown Development Study
1977 Georgetown Small Area Plan
1983 Existing Facilities and Problem Area Maps
1984 Lexington Economic Development Study