DA Collection

Morton School
The Morton School was the city's first public school in 1834, and was later a high school, then junior high, and today is a middle school.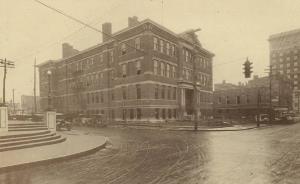 The Morton School Number 1, Lexington's first public city school in 1834, was originally built on the corner of Walnut (later Martin Luther King Dr.) and Short Street. William Morton, who died in 1836, established a trust to be invested and used to maintain a free public school in Lexington, and the first public school was named in his honor. It became the Morton High School in 1904 and the Morton Junior High School in 1917. The school was relocated to Tates Creek Road as a middle school in 1938.
The Morton School collection contains yearbooks for Morton High School (1904-1916) and Morton Junior High School (1917-1937) that are in the Lexington Public Library's collection. The yearbooks contain photographs, student and faculty information, sports information, clubs and theater events, and school alumni.