DA Collection

Old Kentucky Architecture
The book contains photos and architectural plans from several dozen historic Kentucky buildings.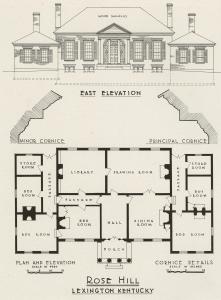 Old Kentucky Architecture is a comprehensive book by Rexford Newcomb that was published in 1940. It contains photographs and floor plans from significant architectural buildings all around Kentucky, but primarily focused on the central Kentucky region, that were built between 1767-1860. It also mentions several buildings designed by architect Gideon Shryock, as well as a few by John McMurtry.
The buildings included are Old Fort Harrod, Old Creel Cabin, Shaker Village of Pleasant Hill, William Crow House, Old Du Puy Farm House, Bardstown's Old Stone Jail, Colonel William Whitley House, Federal Hill, Liberty Hall, Wickland, Clay Hill, Benjamin Gratz House, Dr. John C. Lewis House, Rose Hill, The Grange, Ridgeway, Xalapa Farm, House on Edgehill Road, Castlewood, Woodlawn, Colonel Andrew Muldrow House, Dr. Ephriam McDowell House, Marshall House, Hopemont, Shropshire House, Eothan, Buford House, General McConnell Farm, Padgett House, Crittenden House, Layson House, Waveland, Bridge House, A. E. Hudnely Farm, Smokehouse, Ashland, Saint Joseph's Church, Harrodsburg Old Physician's Office, Old House, Orland Brown House, Diamond Point Passmore House, Chestnut House, Adams House, Moberly House, Mansfield, Showalter Residence, Professor McClure House, Brooker Residence, Rev. Dr. Robert Alexander Johnstone House, Scotland, Helm Place, Carrick House Whitehall, Old Capitol Building, Morrison College Transylvania University, Daughter's College Harrodsburg, Centre College Old Main Hall, Giddings Hall Georgetown College, Jefferson County Court House, Bank of Louisville, Louisville Board of Education, Kentucky School for the Blind, Kentucky School for the Deaf, Cross Keys Tavern, Tomb of Matthew Shryock, Ingelside, Loudoun House, Mound Cottage, Botherum, Walnut Hill Church, Pigsah Church, Sexton's Cottage Lexington Episcopal Cemetery, and the Abbey of Gethsemani.
Several of these buildings have been demolished.