DA Collection

United States Army Armor School, Fort Knox
The US Army Armor School collection contains yearbooks of basic training graduates from Fort Knox.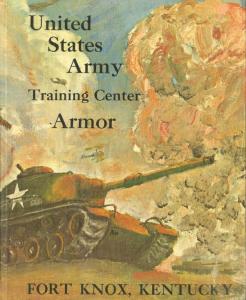 The United States Army Armor School began in 1940 as the Armored Force School and Replacement Center at Fort Knox, Kentucky. It spent a few years post World War II as inactive, until the 3rd Armored Division was reactivated in 1947, and became the US Army Training Center, Armor (USATCA), in 1956. Both Army and Marines soldiers received training on a variety of subjects and equipment.
Fort Knox hosted the school until it moved to Fort Benning, Georgia, in 2010, as the US Army Armor School. The yearbooks in the collection contain the names and photographs of the officers, NCOs, and graduates of the 8 week basic combat training at Fort Knox. There are also many photographs of the various buildings, training, and activities.
Some yearbooks have been digitized by the Allen County Public Library, and are available to view on the Internet Archive.
Available yearbooks: