Hannah Allen, Quilter & Girls Who Podcast (2023)
Jennifer interviews Hannah Allen, local Lexington artist specializing in quilts, and Erin and Jennifer host a special segment for Women's History Month. Hannah recently completed an artist in residency for the Department of Finance of Lexington-Fayette Urban County Government. She and Jennifer discuss her artistic background and her work with Lexington Public Library in the Makerspace at Eastside Branch.
Erin and Jennifer talk with librarians Juniper, Cecilee and Brooke about the "Girls Who" teen program celebrating non-traditional careers for women and gender minorities during Women's History Month. As part of the Girls Who program, Juniper, Brooke and Cecilee flip the script and interview Jennifer and Erin about podcasting.
The "Girls Who Podcast" segment references the following study: Werner JL, Lewiss RE, Pensa G, McGregor AJ. Women in Podcasting: We Should Tune In. Perm J. 2020 Sep;24:1-3. doi: 10.7812/TPP/19.241. PMID: 33482933; PMCID: PMC7849288 https://www.ncbi.nlm.nih.gov/pmc/articles/PMC7849288/
Other Episodes
Turning The Page Questions & Comments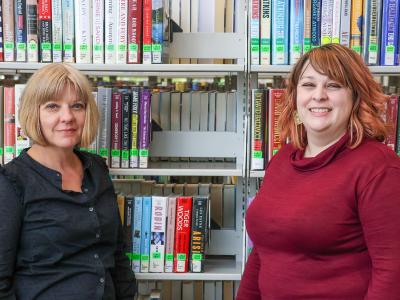 About The Hosts
Turning the Page is hosted by Jennifer Murphy and produced by Erin West.
Jennifer is the Assistant Manager of the Eastside Branch library. She has worked for Lexington Public Library for over 20 years in various stages of her career. She loves podcasting, listening to and talking true crime. 
Erin is the Virtual Services Librarian. She's worked for Lexington Public Library since 2003 and began her work with audio editing in 2012 while working at the Northside Branch. Erin enjoys listening to history, true crime and tv show recap podcasts.