An Interview with Kaitlyn Hill (2022)
Jennifer talks with local author Kaitlyn Hill about her debut YA novel "Love from Scratch" and her journey in publishing. Kaitlyn's book is available for checkout from the library and for purchase wherever books and audiobooks are sold. On Behind the Scenes, Erin talks with Amanda Wheeler and Bryan Klausing about the library's experiential learning spaces (the Digital Studio, the Kloiber Foundation STEAM Lab, and the Eastside Makerspace) and programs. 
Other Episodes
Turning The Page Questions & Comments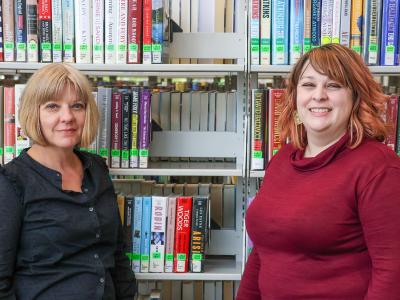 About The Hosts
Turning the Page is hosted by Jennifer Murphy and produced by Erin West.
Jennifer is the Assistant Manager of the Eastside Branch library. She has worked for Lexington Public Library for over 20 years in various stages of her career. She loves podcasting, listening to and talking true crime. 
Erin is the Virtual Services Librarian. She's worked for Lexington Public Library since 2003 and began her work with audio editing in 2012 while working at the Northside Branch. Erin enjoys listening to history, true crime and tv show recap podcasts.