Jennifer and Erin talk about poetry well after National Poetry Month. They discuss their different exposures to poetry growing up, memorizing and reciting Annabel Lee in grade school, and give some recommendations for their favorite poems.
Savannah Sipple-McGraw joins us again to read from her work WWJD and Other Poems, which explores what it is to be a queer woman in Appalachia and is rooted in its culture and in her body.
Danni Quintos read selections from her work Two Brown Dots when she joined us last December. Two Brown Dots explores what it means to be a racially ambiguous, multiethnic, Asian American woman growing up in Kentucky.
Both sets of poems deal with sometimes heavy emotions around identity and self, so please take care of yourself. The poems are individually chaptered if you need to skip one.
Other Episodes
Turning The Page Questions & Comments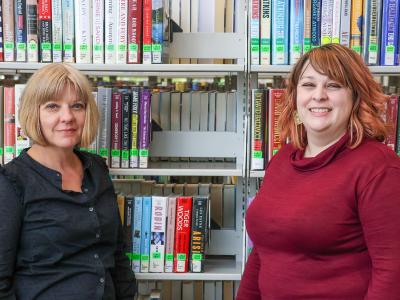 About The Hosts
Turning the Page is hosted by Jennifer Murphy and produced by Erin West.
Jennifer is the Assistant Manager of the Eastside Branch library. She has worked for Lexington Public Library for over 20 years in various stages of her career. She loves podcasting, listening to and talking true crime. 
Erin is the Virtual Services Librarian. She's worked for Lexington Public Library since 2003 and began her work with audio editing in 2012 while working at the Northside Branch. Erin enjoys listening to history, true crime and tv show recap podcasts.